What are WordPress plugins?
One of the key factors contributing to WordPress's dominant market share (43.0% of all websites!) is its vast ecosystem of useful plugins. At the time of writing there are 60,449 free plugins alone, available to browse at the WordPress plugin repository. In this article, we will explore what plugins are, how they enhance website functionality, and why they are integral to the success of most WordPress websites.
Understanding WordPress Plugins
WordPress plugins are software extensions that can be installed and activated within a WordPress website to add specific features and functionalities. They allow users to customise their websites without the need for coding expertise. Plugins are developed by the WordPress community and third-party developers, offering a wide range of solutions to meet various website requirements.
A plugin might contain nothing more than a few lines of code, amounting to a minor tweak. Equally, they can be complex bundles of software that fundamentally transform your site (eg. WooCommerce). Both extremes, and everything in between, are readily available to you within a few clicks.
Enhancing Functionality
WordPress plugins provide an extensive range of functionalities, empowering website owners to extend the core capabilities of their sites. If you can think of something you might want to add to your site, some capability that isn't there by default, there's probably a plugin (or fifty) to fit the bill. Search engine optimisation (SEO) and security enhancements are common examples. How about a contact form? Plugins have got you covered. Want to add a gallery or a slider? Too easy!
Ease of Installation and Management
Installing a WordPress plugin is straightforward. Users can browse and install plugins directly from their website's admin dashboard or upload them manually. Once activated, plugins integrate seamlessly into the backend interface, often adding new menu items or widgets for easy configuration and control. Users can activate, deactivate, update, and delete plugins with just a few clicks. This flexibility ensures that website owners can experiment, test, and adjust their website with minimal effort.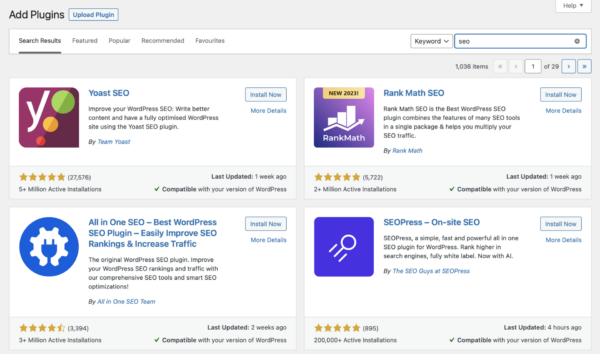 Considerations and Best Practices
Plugins greatly enhance the functionality of WordPress websites, but it is important to exercise caution when selecting and managing them. Too many plugins can slow down a website's performance, increase the risk of conflicts, and introduce security vulnerabilities. We strongly recommend that you research and choose reputable plugins from trusted sources, regularly update them to benefit from new features and bug fixes, and remove any unnecessary or outdated plugins. This aspect must not be overlooked – check out our article on website maintenance for more on responsible plugin management.
To wrap up
WordPress plugins are indispensable tools for extending the functionality of WordPress websites. Website owners with no coding skills, and no budget to hire such expertise, will usually find a combination of off-the-shelf plugins to meet their specific needs. Layering on additional functionality by installing new plugins when needed is a huge selling point for WordPress as as platform. It offers site owners an accessible way to evolve their website over time in response to analytics or to market changes.
An agency like Shapeworks, on the other hand, might have a slightly different relationship to the plugin ecosystem. As a team of technically skilled developers, building to exact specifications, we can minimise our reliance on 3rd party software. This makes for the most lean, stable, and maintainable codebase possible. A key part of delivering the very best security, performance, and user experience.
That's not to say that liberal use of plugins is only for the hobbyist, or the cash-strapped small business. There's always a trade-off. Expert developers needn't attempt to reinvent the wheel at every turn. We can leverage the excellent work of others by using a carefully curated selection of plugins, saving our client time and money where it makes sense to do so. As such, you'll be hard pushed to find anyone who isn't a fan of the humble plugin. Embrace them and hit that 'install' button now, you're in good company!